Mission and Purpose
The mission of Florida State University Panama City's Advanced Science Diving Program (ASDP) is to educate and support excellence in underwater research. To this end, the ASDP provides academic courses in support of other university programs, develops and delivers professional dive training programs, engages in industry partnerships with public and private organizations, and conduct a variety research and outreach programs in the furtherance of safe and productive scientific diving. The core function of the program is to train and educate university students, faculty, and staff, as well as members of other agencies involved in maritime work, in the techniques related to scientific diving according to the standards established by the American Academy of Underwater Sciences (AAUS).
FSU Panama City is an active member and supporter of AAUS and complies with all of its policies and procedures. The ASDP operates under strict standards for training that allows a working reciprocity between us and other underwater research facilities around the globe, specifically organizational members of AAUS.
Services
The Bob Barth Underwater Research Scholarship Endowment was established at FSU Panama City to serve as a lasting tribute to the distinguished career of Bob Barth, a leader in the world of saturation diving, and to his enormous contributions to the field of diving. The scholarship is available to undergraduate or graduate students attending FSU Panama City who possess and maintain a 2.5 GPA and who are enrolled for a minimum of six credit hours per semester, three of which must be in an ASDP course. The scholarship may be used for tuition, books and/or other required materials, lab fees, or other expenses as required. Interested applicants may apply during the Foundation scholarship application window for fall/spring.
Dive certifications for students in ASDP courses are provided through the International Association of Nitrox & Technical Divers (IANTD). ASDP instructors are certified IANTD Instructors and Instructor Trainers, with instructional specialties that include Nitrox Diving, Cavern Diving, and Public Safety Diving. The ASDP has maintained a long-standing relationship with IANTD, including collaboration on the refinement of various training materials.
The ASDP directly supports the Scuba, Hyperbaric and Recreational Club (SHARC) at FSU Panama City. This registered student organization fosters participation and engagement in the campus community through its monthly club activities and service programs. Many ASDP students join SHARC to augment their training through the additional dive opportunities offered by the club.
The ASDP participates annually in FSU Panama City's STEM Camps as part of its community outreach efforts. During these camps hosted for area elementary and secondary students, ASDP staff conduct workshops based on fundamental scientific principles from physics, chemistry, and hyperbaric science to provide unique and educational experiences.
 As part of its commitment to the Underwater Crime Scene Investigation (UCSI) certificate programs, the ASDP actively supports law enforcement on a local and regional level when criminal and accident investigations involve an aquatic component. That support has taken the form of training first responders, technical advising, equipment loans, and participation in investigative activities. A unique aspect of this part of the program is that select students have had the opportunity to gain real-world experience by participating in such investigations. Examples of more notable investigations in which ASDP personnel have participated include the search for Natalee Holloway and the Black Hawk recovery operation near Eglin AFB.
A further extension of the ASDP role in supporting the UCSI program at FSUPC is active participation in the Joint Agency Water Strike (JAWS) Initiative. This has led to the creation of regional dive teams throughout the state for providing public safety diving services. Comprised of law enforcement officers selected from Florida Fish & Wildlife, the teams are funded through the state legislature and trained by the ASDP. Upon the request of team leaders, the regional JAWS teams receives additional support in materials and manpower from the ASDP whenever needed.
Science Diving
Labs now offered at FSU Panama City or FSU Tallahassee campuses.
CJE 3761 - Introduction to Underwater Investigation (3)This course presents the history, principles of basic hyperbaric science diving, physics and physiology as they relate to diving. This course provides the theoretical foundation for individuals preparing to be divers.
CJE 3761L - Introduction to Underwater Investigation Laboratory (1)
This laboratory course presents the principles and practice of compressed-gas as a life-support system for underwater hyperbaric exposure. This course is designed to develop proficiency in the basic skills required to perform safe underwater operations.

Certifications earned: Open Water and Advanced Open Water Diver.
CJE 4763 / CJE 5767 - Scientific Underwater Investigation (3)
This course builds upon the Introduction to Underwater Investigation course by providing the technology to collect data in an underwater environment according to the scientific method. The course the techniques used in science disciplines that function underwater.
CJE 4763L / CJE 5767L - Scientific Underwater Investigation Laboratory (1)
This laboratory builds upon the Introduction to Underwater Investigation Laboratory course by providing the tools and techniques to collect data in an underwater environment for prolonged periods of time. The underwater data collection techniques use traditional underwater technology and techniques for data gathering related to scientific disciplines.

Certifications earned: Enriched Air (EANx) Diver and American Academy of Underwater Sciences (AAUS).
Continuing Requirements for Underwater Crime Scene Diving
CJE 4764 Underwater Crime Scene Methodology (3)
CJE 4764L Underwater Crime Scene Methodology Lab (1)
CJE 4765 UCSI
CJE4765L USCI Capstone
Elective Course
PEN 1136* - Theory and practice of compressed-gas diving.

Leads to dive certification. Certification earned: Open Water Diver.
2018 summer open dive photos.
*Summer only, these courses are offered through the Public Safety & Security program.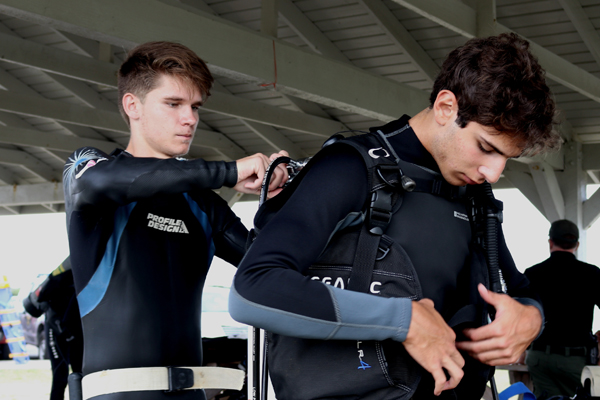 PEN 1136
in the classroom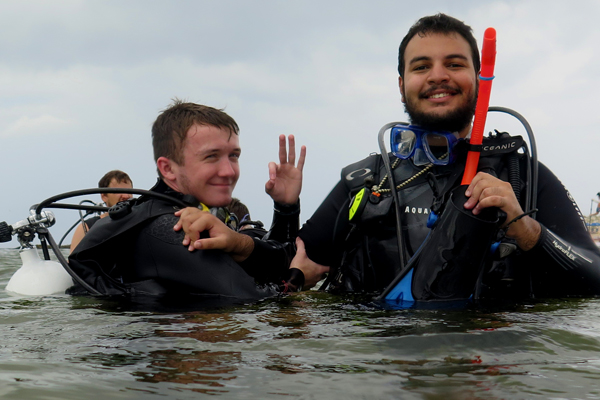 PEN 1136
dive training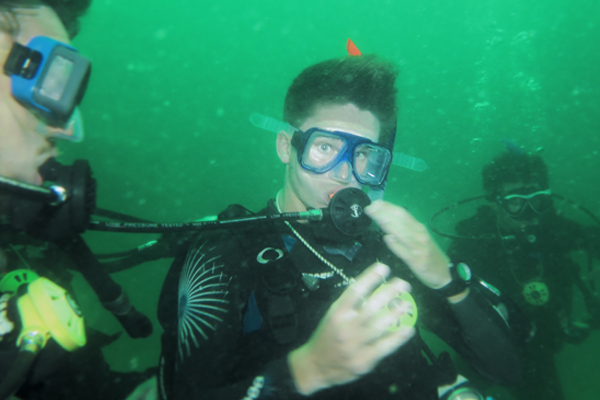 PEN 1136
open dive
ASDP in the News
FSU Panama City students work with the JAWS team to conduct underwater assessment of the Panama City Marina - wjhg.com

 

The NOAA B-Wet study gathers data on artificial reef degradation due to human interaction using traditional underwater scientific methods.

 

CJE 3761 provides the theoretical foundation for individuals preparing to be scientific investigators underwater.

 

Underwater Crime Scene Investigation class dives Sun Harbor Marina in Panama City, Florida. Students learn techniques for searching for and preserving evidence in crimes underwater.

 

FSU's UCSI dive instructors Darren DeDario, Jerome Fleeman, Mark Feulner and Mike Zinszer train divers from the New York City Police Department.
title-inside title-centered
2