Questions about FSU Panama City admissions, programs, campus, COVID-19 response or current hours of operation?
Call the FSU PC Promise Information Number (24/7): (850) 832-5649.
Kathleen Duval, LCSW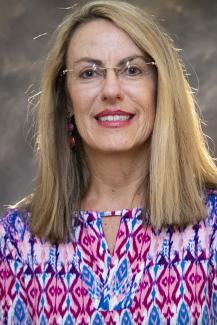 Kathleen
Duval, LCSW
Department of Student Affairs
Mental Health Specialist
Barron 303
Phone
Office (850) 770-2174; or Call/Text (850) 739-0591
Key Responsibilities
Provide direct individual, couple, and group counseling services and mental health assessments to the Panama City campus students.
Promote mental health awareness, suicide prevention, and campus wellness through various appropriate outlets and events.
Provide consultation regarding emotional, social, or academic issues as part of the Student Situation Response Team (SSRT).
Participate in on-campus committees and activities where mental health counseling services play a part.
Provide outreach presentations to the University community.
Education
Master of Social Work, Florida State University Panama City, 2011
Bachelor of Arts, Psychology, Loma Linda University, 1986
About Me
Hometown: Boulder, Colorado
Why I love FSU PC: It is an absolutely stunning campus and it is my alma mater. As a student, I really appreciated the small class sizes and accessibility of my instructors. As a graduate, I really appreciate the continuous stream of well-prepared employees for this area.
Favorite Spot on Campus: Anywhere with a view of the water!
Hobbies: Yoga, outdoor activities like going to the beach, kayaking, gardening, listening to music, and hanging out with my family and friends.
Areas of Interest: Mindfulness and Anxiety, Stress Management, Self-Care, Depression, Relationship Issues, Attachment and Boundaries, The Highly Sensitive Person, Women's Issues, Adjustment to College, Substance Abuse
Education: Master's in Social Work (MSW), Florida State University Panama City and Florida State University, Bachelor of Arts in Psychology, Loma Linda University
Theoretical Orientation: Integrative approach drawing from Interpersonal, Client-centered, Cognitive Behavioral Therapy (CBT), Narrative, Dialectical Behavior Therapy (DBT), Family of Origin, Transactional Analysis, (TA), Gestalt
Professional Affiliation: National Association of Social Workers (NASW), American Association of Christian Counselors (AACC), Association of University and College Counseling Center Directors(AUCCCD)