Ellen Truchon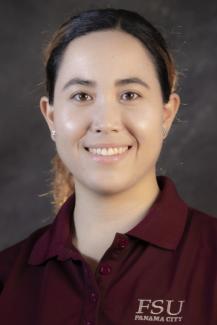 Ellen
Truchon
Chapman Center for Academic Advising & Student Success
Sr. Academic Program Specialist
Holley C-117-E
Key Responsibilities
 
Academic advising for:
Computer Science
Computer Programming & Applications
Pre-Engineering majors
Social Work (BSW) 
Support services in:
Education
Bachelor of Arts, International Affairs – Florida State University, 2013
Bachelor of Science, Marketing – Florida State University, 2013
Master of Science, Corporate and Public Communication – Florida State University, 2020
About me
Hometown: Panama City, FL
Why I love FSU PC: Everyone here genuinely wants the best for students and our campus. 
Favorite Spot on Campus: Just past the amphitheater looking at North Bay and the Hathaway Bridge as the sun sets.
Hobbies: Running and walking; watching Korean TV shows/movies; and watching professional golf, basketball, and tennis.
Random fact: I LOVE golden retrievers! :)
After studying Mandarin Chinese during my undergraduate career at FSU, I taught English in China for an academic year before I came back home and ultimately joined the Academic Advising & Student Success team at FSU Panama City. Having served as a Peer Advisor in the summer after my freshman year at FSU and having met regularly with my own academic advisors in Tallahassee, I understood the significance such a role could have in helping students navigate through their college experience. Caring deeply for education and knowing its significance in helping shape and influence lives, I felt right at home when I joined the staff at FSU Panama City. Not only is Panama City my hometown, but I also began an important part of my college experience at the FSU Panama City campus where I came to take my International Baccalaureate exams with Rutherford High School during my senior year.