Questions about FSU Panama City admissions, programs, campus, COVID-19 response or current hours of operation?
Call the FSU PC Promise Information Number (24/7): (850) 832-5649.
Eduardo Rivera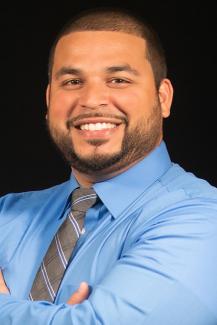 Eduardo
Rivera
Admissions and Records
Assistant Director of Recruitment
Barron 108 A
Key Responsibilities:
Admissions and Records
Student Enrollment
Freshman and Transfer Recruitment
Special Event Planning
Campus Visit
Education:
Bachelor's of Arts, Leisure and Sports Studies, from Kutztown University, Pennsylvania
Master of Education, Higher Education & Administration, from Texas Tech University
Hometown: Philadelphia, Pennsylvania
Why I love FSU PC: Florida State University Panama City truly provides you the personal attention that most places talk about, FSU Panama City backs it up.
Favorite Spot on Campus: Walking through the doors of the library and seeing the North Bay from inside.
Hobbies: Cooking, Basketball, Traveling, Softball, Office Jokester
Nickname: Eddie
Favorite Phrase: Use the resources available to you on campus. It is your dollars that are paying for these services that are geared to help you achieve your goals, set yourself for success not failure.
Quote: "Failure will never overtake me if my determination to succeed is strong enough." – Og Mandino