Questions about FSU Panama City admissions, programs, campus, COVID-19 response or current hours of operation?
Call the FSU PC Promise Information Number (24/7): (850) 832-5649.
Becky Thomsen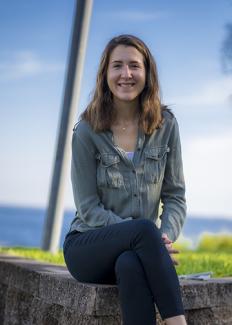 Becky
Thomsen
Academic Advising & Student Success
Student Success Coach
Holley C117-D
Key Responsibilities
Provides coaching for all first time in college students
Coaching and supporting FSU PC students
Support services in peer mentoring
Education
Bachelor of Science, Counseling; Grace College, Winona Lake, IN, 2013
Masters of Arts in Intercultural Studies, Grace Seminary, 2017
About Me
Hometown: Troy, OH
Why I Love FSU PC: I love the community of FSU PC, every staff and faculty member is here to see students succeed.
Hobbies: Cooking/eating any international foods, consuming good coffee, hiking in any national park, going for walks/runs with my husband and dog Meatball
Quote: "We meet no ordinary people in our lives." – C.S. Lewis
After finishing my undergraduate degree, I decided to take a year off to serve with a nonprofit located in the Middle East. This opened my eyes to cultures outside of my own, and I became passionate about learning more from backgrounds that were different from what I had known. Upon returning to the US, I pursued a Masters in Intercultural Studies at Grace Seminary, where I also accepted a position as an Assistant Resident Director. I fell in love with working in Student Services and found that my experience overseas allowed me to have an open mind and heart for people of all ages and backgrounds. When I completed my Masters I decided to continue to pursue a career in Higher Education. While I was in Ohio I worked at the University of Dayton with international students. I recently joined the FSU PC community in 2021 as a Student Success Coach focusing on working with first time in college students. I look forward to working with the wonderful community of students here at FSU!