Dear FSU Panama City Students,
Over the past several weeks, FSU faculty, staff and administrators have been solidifying the fall 2020 class schedule. Consistent with these plans, FSU Panama City has developed a fall 2020 academic instruction plan that involves flexible options for students amidst the coronavirus pandemic.
Our goal has been to offer as many face-to-face classes as we can while prioritizing a healthy and safe learning environment. This includes adjusting class schedules to relocate classes to larger spaces to accommodate social distancing, and transitioning classes to a HyFlex modality, which you will see in the registration system as Panama City FLEX.
While we will have some fully in-person face-to-face courses in fall 2020, the majority of our courses at FSU Panama City will be delivered as Panama City Flex. A Panama City Flex course is designed similar to a regular face-to-face course, but it provides flexible attendance options for students.  In a PC Flex course, students can choose to 1) attend face-to-face (FTF) class sessions (conducted on campus in accordance with CDC recommendations and university safety protocols) or 2) participate in the course remotely without physically attending class. All enrolled students will work with their individual professors throughout the semester to let them know whether they will attend in-person or remotely.
All students are encouraged to log onto myFSU beginning July 16 to view class schedules and adjust course schedules as needed. You may see changes that were made to your previous courses' delivery, days/times, location, etc.
Types of Classes at FSU PC in Fall
When students search courses in myFSU, the different locations of courses will provide information about what components of those courses require in-person, face-to-face interactions, versus online or remote activities. When searching course offerings, keep these descriptions in mind:
Tallahassee-MAIN, Tallahassee-SW Engineering, Panama City, FL, Rep of Panama, Sarasota, etc.: Classes associated with these locations are designated as having some instructional component that requires in-person/face-to-face activities at the campus location listed on the class details. Students should plan to be in town, available to attend class on campus, plan to interact with other classmates face-to-face with safety precautions in place, and wearing your face covering.
Panama City FLEX: Classes noted as FLEX courses will allow students to choose to attend in-person or remotely. Instruction will be delivered in classrooms with social distancing and CDC safety guidelines in place, while also providing distance-based options for students who wish to participate without attending on campus. Individual information per course about how instructors will be implementing the distance-based portion of the course will be provided to students by instructors of those courses and/or additional notes will be provided in the registration system.
Remote: Classes designated as a remote location are regularly offered face-to-face, in-person courses that will temporarily be held as distance-based only via Zoom or other remote instruction modality. There is no distance learning fee associated with remote classes.
Online: Classes designated as online are those that are already regularly taught online and specifically designed for online delivery and will continue to be taught online in fall 2020. Most online classes have a distance learning fee per credit hour in addition to regular tuition and fees. This supports the additional staff and technologies required to create and teach the online class.
More information about meetings days/times in the Registration system: For PC FLEX, Remote, and Online Classes, all remote/distance-based portions of those classes will be delivered either synchronously or asynchronously. Each instructor will provide more information to students about their plans for the remote portions of their classes.
Synchronous Instruction: Classes with synchronous, remote/distance-based instruction will require students to attend via distance at the days/times listed within the class registration information (via Zoom or other technologies). The registration system will not allow you to enroll in synchronous classes with overlapping times.
Asynchronous Instruction: Classes with asynchronous, remote/distance-based instruction will not require students to attend at a determined day/time if no day/time is listed in the registration system. Instead, the instructor will use other teaching methods that allow students to complete course materials via distance on their own within possible specified course content deadlines.
How to find location information for classes?
Students should go to myFSU and access the Class Search to see how their classes will be delivered for fall semester. When searching, use the physical location "class attribute" in the class search to help filter the type of class you are looking for. When using the scheduling assistant, students can search for and add a class, then click on "Sections" (the gear icon) to view the physical location for each course section.
The figure below shows an example of where to find class location attribute information when clicking on a course in the registration system (highlighted in yellow; demonstrating a FLEX course):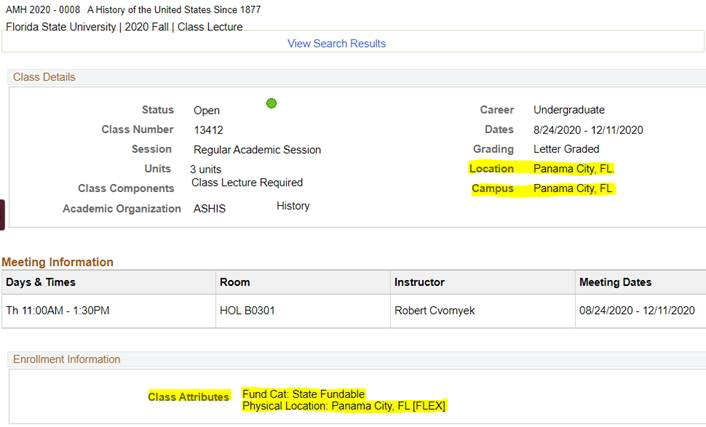 Additional Expectations for Fall - Face Coverings and Classes
Now that registration has opened, all students have the opportunity to review their schedules and make decisions about what they want their fall semester to look like. Please be aware that the University will require face coverings to be worn at all times when you are indoors and during classes. Students who have a medical issue or a disabling condition that may make wearing face coverings difficult should contact the Office of Accessibility Services at oas@fsu.edu  or 850.644.9566 (VRS for D/deaf 850.270.5370). Panama City students may also contact Kimberly Leath, Student Support and Disability Services, 850.770.2172 or kleath@fsu.edu.
International Students
Additional guidance on fall course registration for international students will be released soon and specialized registration assistance will be provided.
Continue to Stay Updated
We continue to stay in touch with state and local health officials and will update you as more information is made available regarding classes. Please continue to stay updated with announcements via the website pc.fsu.edu, Facebook and email. We urge all students, faculty, and staff to follow federal, state, and university health and safety guidelines and we look forward to the start of classes in the fall.
If you have any additional questions regarding your fall course schedule or would like to talk with an academic advisor, please contact the PC campus advising team at advising@pc.fsu.edu or call (850) 770-2288.
Randy Hanna
Dean, FSU Panama City
FSU College of Applied Studies
rhanna@fsu.edu
(850) 770-2102 (office)
(850) 445-2511 (cell)
title-inside title-centered
2